The most difficult aspect of having pets is not the time commitment, cost or mess. It's the moment at the end, when you have to say goodbye.
Earlier today, M and I bid farewell to our eldest cat, Buddha. She died at 17 after suffering from kidney disease, an illness common to older cats. It was also what killed her sister, Brat Child, and her first adopted mother, my best friend Amy.
Born in Key West, Buddha was a descendant of one of Ernest Hemingway's cats. Like others in her feline family, she was a polydactyl (six-toed).
Amy received Buddha as a present and originally named her Lily. A year later, when Ames unexpectedly died, I agreed to care for Buddha and Brat Child for the rest of their lives. Doing so gave me the loyal companionship of two wonderful animals; it also allowed me to maintain the belief that a small piece of Ames was still here.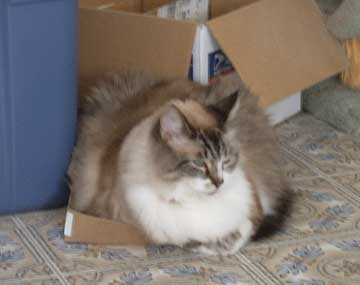 Buddha loved to eat and loathed to exercise, two traits she and I had in common. When hungry, she would became rather vocal, loudly urging me to hurry up and serve her the "good food." She also had the remarkable ability to tell the difference between cans of tuna and cans of anything else. It wouldn't matter if she was fast asleep or on the second floor, once I started to open a can of tuna, she'd race to the kitchen and await her share. Over the years, she grew to be rather large and round-bellied, and at her grandest, weighed nearly 20 pounds. Her appearance, combined with her kind and loving demeanor, inspired the new moniker.
Buddha enjoyed playing on staircases — both straight and spiral — and lying in patches of warm sunlight, usually while perched atop a kitty condo or couch. When it came to affection, she reveled in having her belly gently rubbed and her bum firmly patted ("Beat me," she'd demand, to the amazement of our friends, "and pull my tail. I like that.") Due to this, several friends surmised that she was either a masochist, or had been a dog or a bear in a previous life.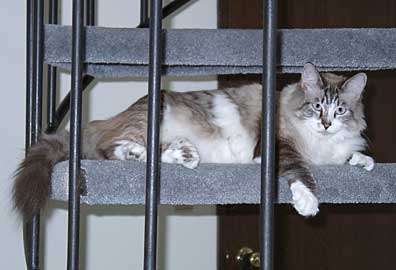 But Buddha was a cat in this one, and like other felines, she had a love/hate relationship with water. She absolutely loathed baths, which I was forced to give her when she became too large to properly clean herself. Yet she savored the act of drinking fresh water, preferably when it was hand-poured in a slow, drinkable stream. I purchased two stainless steel water fountains to provide the same service, but she would only drink out of them as a last resort. In truth, she wanted to be served. The rare exception occurred in December when she took great delight in drinking the water out of the Christmas tree stand (even though doing so was strictly forbidden).
When Brat Child died last year, Buddha took on the "matriarch" role in our home. As such, she had first dibs on laps during weekend cuddle sessions. She also sought my attention in the office, forcing me to stop working several times a night to pay her obeisance.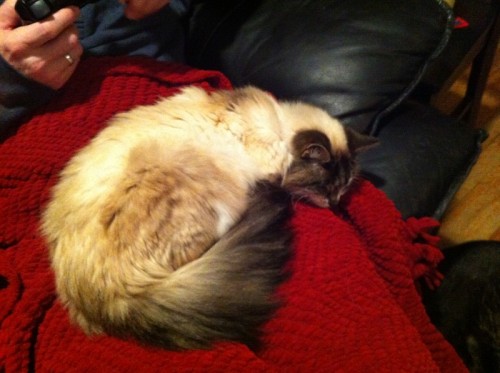 Despite her charm and sweetness, Buddha was not the cleanest of cats. As she grew older, she missed the litter box more than she hit it, which caused us to invest in just about every rug-cleaning product on the market. And when we were out of town, she made sure her displeasure was known, usually in smelly deposits left around the house. Thankfully, we employed very understanding pet sitters, who took great pains to clean up the mess and give her the attention she felt was her due.
Her long blond, white, brown and grey coat often knotted, and had to be frequently brushed; however, when properly groomed, Buddha looked positively regal. She had stunning blue eyes that twinkled with mischief and curiosity. Their hue dulled as she aged but the light behind them only faded at the very end.
She will be missed.